BA, Business & Marketing – Central College
I obtained my Bachelor's from Central College in Pella, IA. Central is a private Liberal Arts school, which is designed to give you a rounded education… That means I had to take French, Christian Theory, Elementary Education, and World Music (among other random courses) on top of my technology and business courses.
It also gave someone like me, who grew up in a town of 700, a taste of what a larger community was like. My high school graduating class had fewer than 30 people in it. Central, while small compared to most places, felt big to me. It was exactly what I needed to broaden my narrow view of the world without scaring me.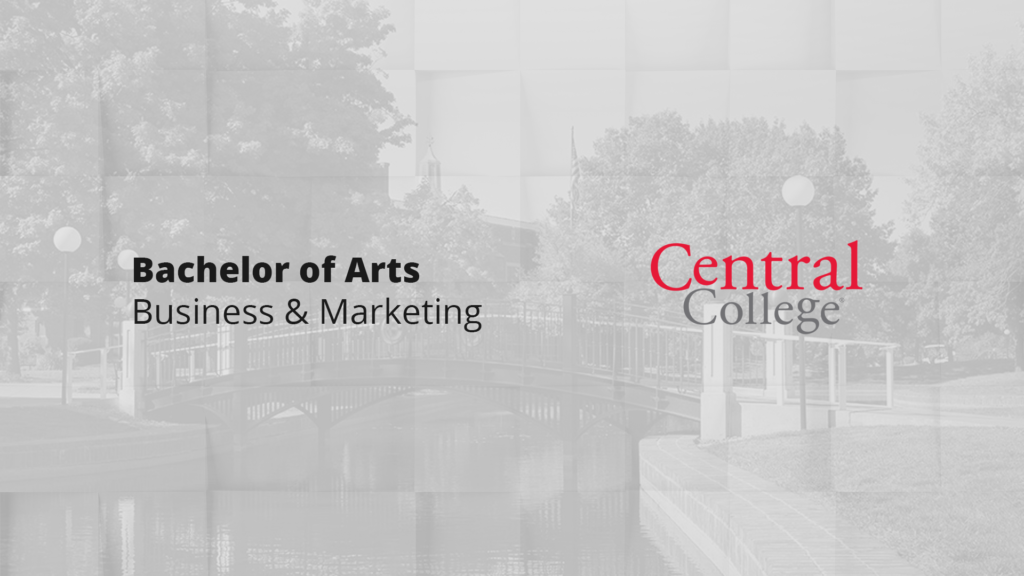 I originally started at Central in the fall of 2001 with an intended major of Computer Programming. I did three semesters of programming curriculum before I realized that programming was too linear and detailed for me.
Spring of my Sophomore year, I switched Majors to MIS. It would still be technology based, but have some practical business application as well. Unfortunately, again I got held up in the programming world and realized that the last few classes of C+, Cobol, and whatever else Central required at the time weren't going to work for me. Commence another switch to the straight up Business Management Major.
The Spring Semester of my Junior year, I finally decided on (and stuck with) a Business Major with a Marketing emphasis. I'd been interested in marketing from a Marketing class in high school I had taken, and at the time actually like the idea of a marketing degree. Unfortunately, Central didn't offer (and still doesn't) a marketing degree. So a switch to Business Management with a Marketing emphasis was my decision.
Also in my Junior year, I started getting really involved with the campus TV station/show "Dutch Mania Television" aka "DMTV". My existing technology skills, coupled with great instruction from the acclaimed Marty Feeney, landed me as the Executive Director of the show my senior year. One of my favorite pieces of work was the intro for DMTV my senior year. My video work also landed me a internship producing a TV spot for Central's 150th Anniversary Gala, which I did the voice over for as well.
Luckily for me, Central's Liberal Arts curriculum makes up a good portion of required courses regardless of major, so I had those completed. I was also lucky that my two semesters of MIS courses included enough Business classes that I wasn't too far behind my classmates. Sadly, "not too far behind" still meant I would need to take 17-19 credit hours a semester for the last three semesters in order to graduate on time.
Alas, I finished with a Business Management degree (Marketing emphasized), and a slew of other knowledge that I hadn't intended on learning. Looking back, I do see how the variety of courses helped me round my education, but even more importantly, they helped me learn how to think horizontally and make connections between topics that seemed in no way connected. It's that ability, to calm the chaos of thought particles and form logical deductions, that I really thank Central for.
Consumer Behavior
Marketing Research
Marketing Management
Intro to Communications
Understanding Mass Media
Film and Video Production
Film Criticism
History of American Cinema
Computing Concepts
Computer Programming I
Computer Programming II
Database Systems
Intro to GIS
Organizational Behavior
Operations Management
Corporate Finance
Strategic Management
Principles of Marketing
Principles of Management
Pre-Calculus
Intro to Statistics
Intro to Finite Math
Principles of Microeconomics
Principles of Macroeconomics
Intro to Accounting
Financial Accounting I
Management Accounting I
Foundations of Education
Christian Heritage
Elementary School Art
Intro to Philosophy
French I
French II
World Music